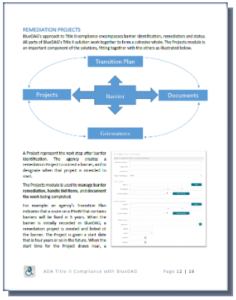 BlueDAG has released a new whitepaper: "ADA Compliance With The BlueDAG Title II Software Suite." This 16-page document provides the reader with an executive overview of Title II of the Americans with Disabilities Act, focusing on the Act's ramifications for public agencies. It then explains and demonstrates the means by which BlueDAG's Title II Suite enables subscribers to effectively manage the five administrative requirements of Title II of the ADA.
Filled with illustrations, software screenshots and case examples, this whitepaper provides the reader with solid introductory understanding of the methodology and architecture of BlueDAG's Title II suite. ADA Title II Coordinators for U.S. cities, counties and states, as well as of specific departments of those agencies, will find this whitepaper to be an effective and informative introduction to BlueDAG's software tools.
Please accept this whitepaper with our compliments. Those ADA Title II Coordinators who wish to delve deeper into the capabilities of BlueDAG's Title II suite may contact us to schedule a phone consultation or live web demo to see BlueDAG in action.
Private-sector ADA Coordinators will find the section of the whitepaper which deals with Evaluations and Barrier findings to be relevant to their site inspection responsibilities, and they are encouraged to download the document and review those sections.
[yikes-mailchimp form="1″ title="1″]