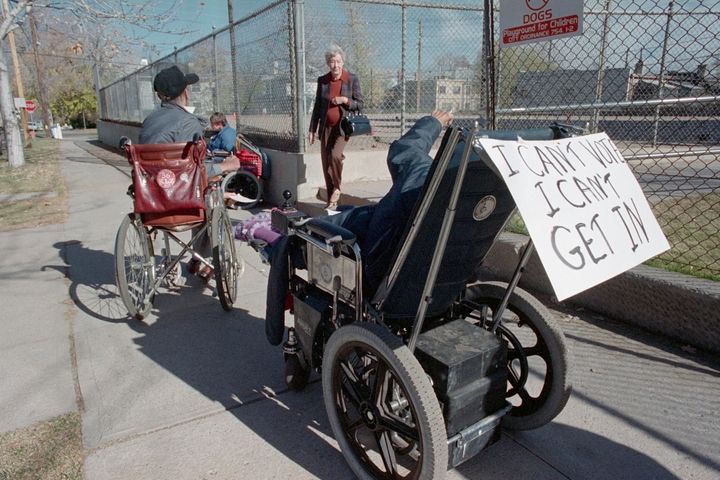 Voter access and voter rights have taken been in the news a lot this year. For people with disabilities, this has been a critical issue for decades.
In Texas, disABILITYsa, a group  dedicated "to educate, advance and engage individuals with disabilities", is now contending the State's Senate Bill 7 and the roadblocks it puts up for people with disabilities to have equal access to vote.
The three biggest concerns for the disABILITYsa were the requirement to verify a voter's disability to get a mail-in ballot, changes to curbside voting and possible criminal charges against caregivers or attendants often needed to assist a voter with disabilities.
To continue reading this story, please visit https://www.ksat.com/news/local/2021/06/25/disability-community-sends-message-to-texas-lawmakers-over-proposed-voting-restrictions/.
In North Carolina, previous legislative efforts have gone to the courts. Recently, North Carolina's Eastern District Judge Terrence Boyle recently ordered the state's Board of Elections to make a number of changes which include the preservation of absentee voting for blind and otherwise disabled voters.
The ruling poses new limitations, and possibly more ADA violation, though. For those wanting to cast absentee ballots, voters with disabilities are required to fill out a form and submit it to their local election board before receiving an absentee ballot.
While most voters without vision impairments were able to go about this process privately, visually impaired voters often required assistance, affecting their ability to privately cast a ballot.
To continue reading this story, please visit https://www.thetimesnews.com/story/news/2021/06/25/court-order-ensures-convenience-and-privacy-disabled-voters-blind-terrence-boyle-north-carolina/5333922001/.
Sources:
Court order secures new voting rights for North Carolina's disabled voters
By Dean-Paul Stephens, Times-News
Published June 25, 2021
https://www.thetimesnews.com/story/news/2021/06/25/court-order-ensures-convenience-and-privacy-disabled-voters-blind-terrence-boyle-north-carolina/5333922001/
Disability community sends message to Texas lawmakers over proposed voting restrictions
By Jessie Degollado, KSAT 12 San Antonio
Published June 24, 2021
https://www.ksat.com/news/local/2021/06/25/disability-community-sends-message-to-texas-lawmakers-over-proposed-voting-restrictions/